Beem Wilder
My bikes and I have had three classes with Arthur. His classes, ability to teach, and his knowledge have far exceeded my expectations. The classes are 1:1 and Arthur had me engaged from the very beginning of classes, as I did the mechanics myself, with his guidance. His shop has everything and he encouraged me to get the tools I need. I feel so happy that Arthur is there for me when I need his class.

Google Review, August 2019
Marc Kornegay
One of the best sounds in the world is a bicycle flying down an open road with all the parts moving and operating in their proper form... all it takes is a simple click or creak to ruin your joy ride. & it probably means something needs adjusting or potentially replaced, so lesson #1 is to always listen to your bike when she's not purring... she's speaking to you. It used to drive me crazy because I only had very basic skills - often clicks or creaks would mean a visit to the bike shop - which took added time, the embarrassment of trying to explain a clicky sound over around this moving thing, and didn't always leave me feeling like the problem was solved. I tried learning some of this on my own, but YouTube videos didn't inspire me to take tools I didn't really know how to use on relatively expensive pieces of equipment or vital parts like the brakes. After now riding for about 10 years, I realized it was time to learn the trade so that I could perform maintenance on my own and know what the heck that moving thing is actually called & how it worked. I didn't want just a basic skills training, I wanted something comprehensive that I could walk(/roll) away from feeling like I knew how the bike operated in & out. I found Arthur and decided I would make the time investment and trek down from San Francisco for the 40-hour class. Thanks to Arthur, I now have the confidence and ability to maintain all parts and components on two different bike builds. The 1:1 hands-on training was key for me to master the various parts and procedures. I never would have been able to do this on my own, and the skillset will pay for itself over and over again throughout the course of my cycling-obsessed lifetime. When I rolled out at the end of the week, my ride was back to smooth & quiet.. and I had a great sense of pride in knowing that I made that happen and can now approach the next click or creak on my own. Overall, a super great experience and Arthur is wonderful to work with - I highly recommend!!

Google Review, July 2019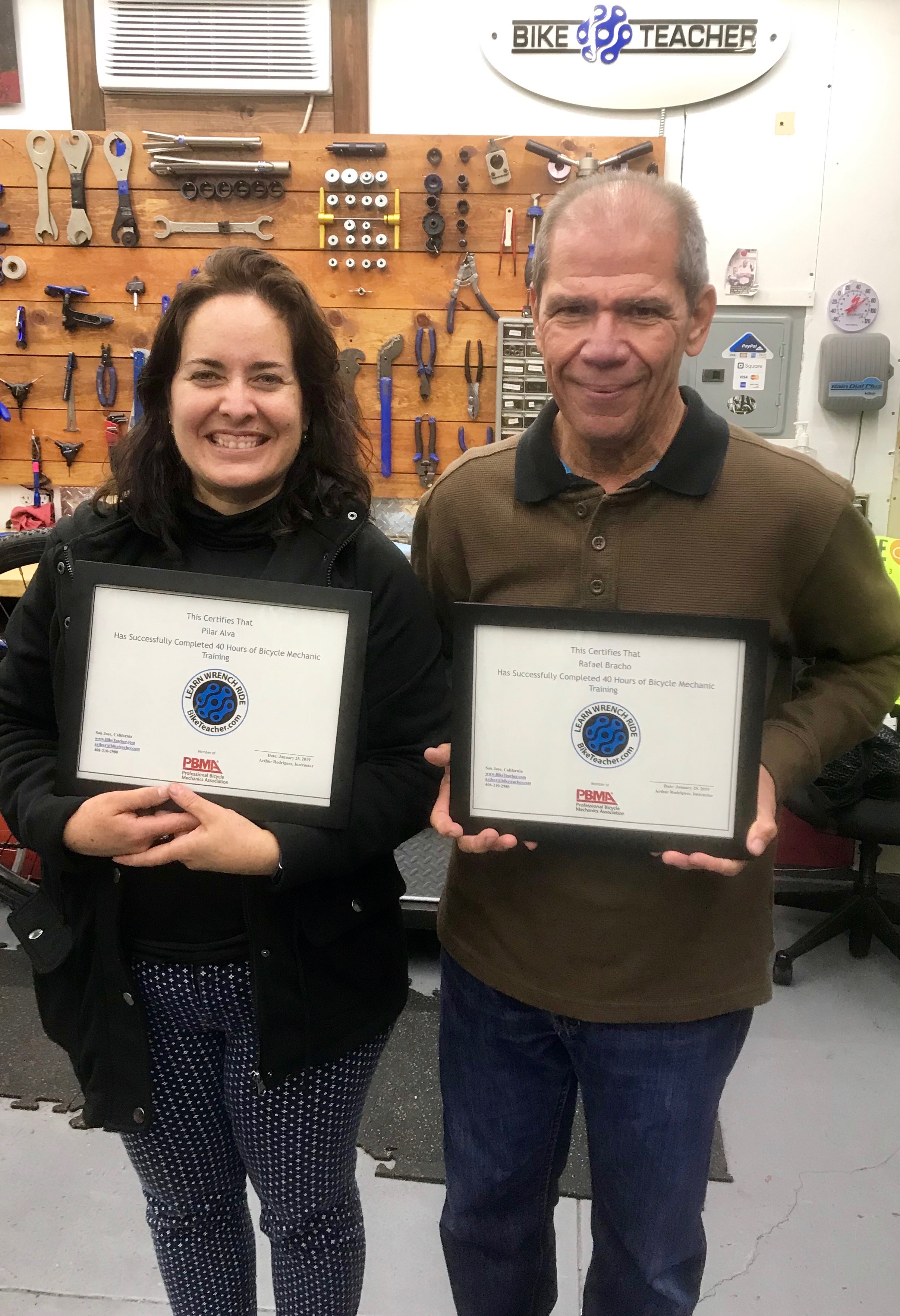 I took a 40 hours of Bicycle Mechanic Training with Arthur, it was a 100% hands-on experience.
After this course, I am able to maintain, identify problems and repair bikes.
Excellent course, good ambient I highly recommend it.
Rafael & Pilar From Miami Florida January 2019. Both avid road cyclist.

At bike teacher, I was able to get real hands on experience while at the same time having one on one instruction. I walked away feeling confident! Instructor follow up with me few weeks later to see if I had been putting my new skills to work. Felt so comfortable with him that I have been email him with questions about certain things that I have encountered on bikes. His response was not only prompt, but he took the time to send a video from his YouTube channel with solutions.
October 25th 2018' Jimmy A.
"My teen-age son wanted to learn bike mechanic skills beyond what the local REI courses offered. He found Arthur to be a knowledgeable and patient teacher with a strongly hands-on curriculum, and left the 40-hour course with far more skills and confidence than he had before. When I compare the investment in this training course to a summer camp, this wins hand-down. Highly recommended."
Regards,
-Tim
I took two 4 hour classes with Arthur: The beginning and intermediate classes.

Arthur made the process of learning bike repair and maintenance a lot less daunting. As others have noted, I appreciated that he had me make all of the repairs/adjustments myself so that I would gain the experience. I went in with very little knowledge of the process and skills needed to maintain my bike and was impressed by Arthur's patience and attention to detail. He explained a few things to me a few times over and was happy to revisit things.

I would highly recommend Arthur for those wishing to become competent with the ins and outs of bike maintenance.

Whether you are looking to work in the industry or wrench and get an understanding of your own bike The Bike Teacher is the only place to go! My employer expanded and offered me a mechanic position if I could get certified training. I quickly began searching for a school that would not only work with my schedule but leave me with a certificate for my boss and the knowledge to back it up! I was very lucky to have chosen the Bike Teacher for my bicycle mechanic training. He answered my "million" questions before I signed up for a last minute, 70-hour course and drove up from So-Cal. He was accommodating to the requirements set by my employer and made sure I left the course with the confidence and understanding of all my shops bike mechanics needs. He has a clear and inventive way of teaching that made techniques easy to learn and remember. He brings energy and enthusiasm to his training! Great guy and amazing teacher. I can't recommend him enough; if you are looking for an in-depth bike mechanic course that works with you then don't look anywhere else.
6/22/18 Zack, Palm Desert CA. Big Wheel Tours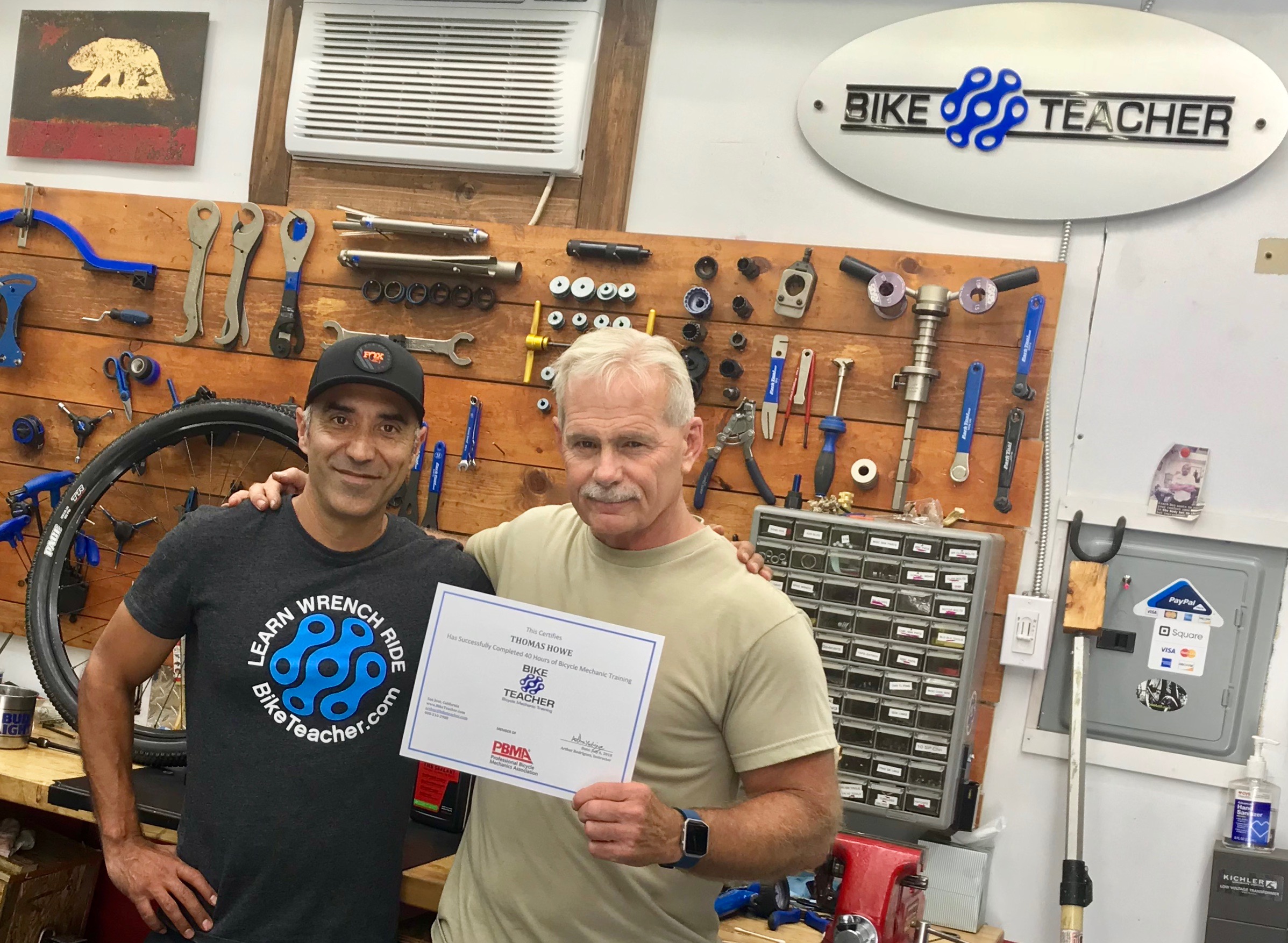 Thanks for the wonderful training, it is very much appreciated. Also thank you for being patient.
T. Howe Contra Costa Community College District Police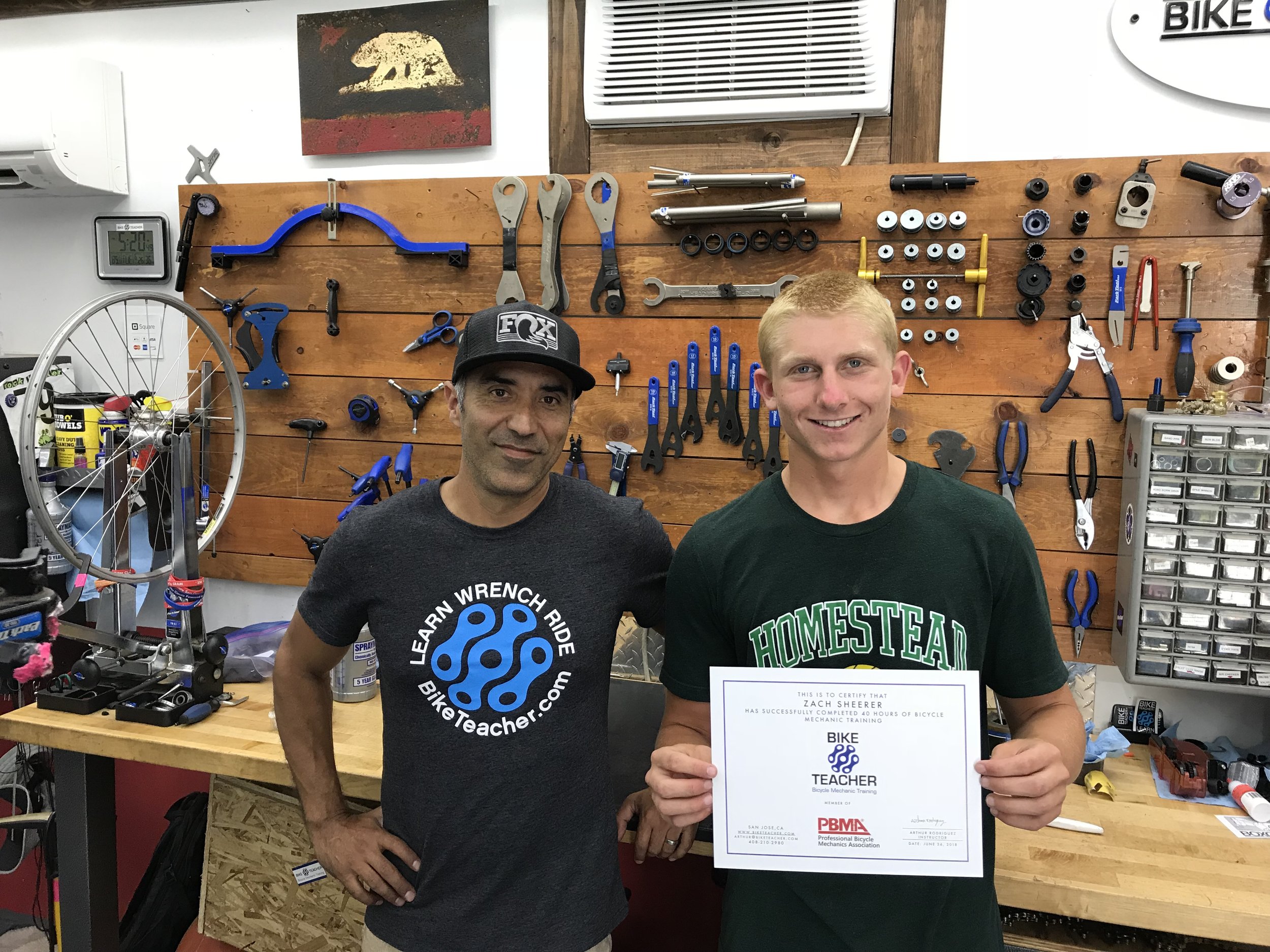 Hey Arthur. Sounds like Zach is having a great time working on bikes down there with you! Thanks again. I know he's had a great time.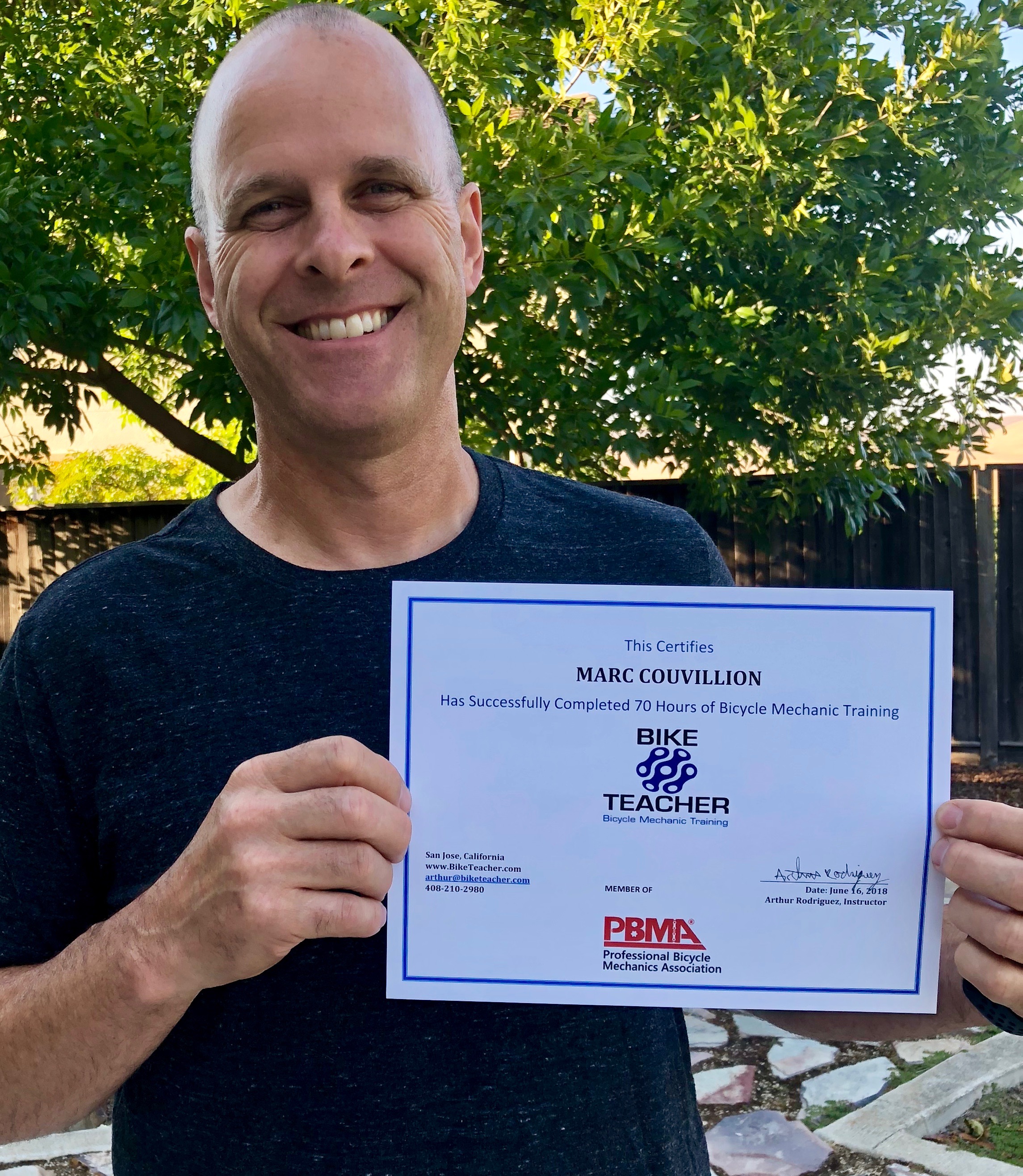 Thanks again for all you did for me and I'll keep you posted on the progress of my business.
I'm looking forward to every session of our 40hr class and after every session, I come home trying out everything I learned and was able to fix my bikes as well as my friends'.
Thanks Arthur for your great teaching style. I enjoyed and learned a lot from our sessions and had fun building my first bike.
More bikes to build.. - Ricky
April 2017


Arthur, the instructor, proved to be very knowledgeable, articulate and patient. These are 3 highly important qualities of a successful instructor. For reference, I participated in the Intermediate course. I had barely adjusted a cable prior to the course and by the end of the session, I was confidently replacing cables through a frame with internal routing, which is just one of many successes during the 4 hours. Heck, Arthur even got me to adjust my rear derailleur so that it is once again shifting like a new bike. Everything I've tried to learn in the past, finally seemed to click. I've tried following along several YouTube videos in the past but they often neglect to explain the subtle nuances that Arthur made sure I understood before proceeding with each task. Let's face it, there's no better way to learn this stuff than through live training with a great instructor.
Squareup.com review, Jeffrey H. 4/16/18
Hi Arthur, I wish I could give you some negative feedback to go on, but all I can think of is how much I learned. Let me try something for those testimonials...
March 2017
I went in to Arthur's class knowing how to change a tire. Poorly. We took apart and put together at least dozen bikes over seventy hours, including two I brought from home: a mediocre mountain bike and a twenty-year-old patchwork monster from Frankenstein's fevered nightmares. He explained every part in detail, made sure i knew what they did and how to fix them, then broke them again and said "your turn." Now the monster runs like a pleasant dream. For my final exam, he had me completely break down and reassemble a bike that we had never touched, and I'm pretty sure it runs better than it did before. Not bad for someone who couldn't put a tire back on without a tire iron. Arthur teaches with zen patience, easy confidence, and an impish sense of humor. I highly recommend him.
February 2017
Frustrated with my teacher
Message: How is it going over there, this is Natalie, I took a 4 hour class from you a couple weeks ago. I couldn't wait to get back to the shop to work on my derailing techniques. Your teaching really helped out. Before I would have to wait for my teacher to help me and still he would only do the work for me and then say that's how you do it. I just wish you were my bike teacher
Natalie Mendoza, Arizona

I am a avid recreational cyclist whom recently completed a one week bicycle mechanic training with Arthur. Arthur walked through the entire Park Big Blue Book, chapter by chapter, all hands on with our own bikes and the many different bikes he has available. Now I have the know how to accomplish a complete breakdown and build up from scratch with pretty much any bike. In fact earlier this week I ran into some serious drive train issues miles away from civilization and totally out of cell phone coverage. Hearing Arthur's instruction in my head, I walked through debugging and then addressing the problems all with a simple multi tool. I would highly recommend Arthur's courses to everyone, for someone whom wants to save themselves the hundreds of dollars they dish out every time they get a professional overhaul to someone whom wants to make bicycle mechanics their trade. Outstanding!

Craig
My high school son and his friend, both sophomores, attended Arthur's tune-up class and both said working with Arthur was one of the best uses of their time. The boys have been riding their bikes quite a bit since the summer and they feel much better about maintaining their brakes, gears, chains, tires/wheels and other cycle fundamentals to get a smooth and safe ride. Arthur was extremely knowledgeable and great at explaining. I feel much better as well! Highly recommend Bike Teacher. Yelp 9/216
My sister and I had a great experience. We traveled from Southern California to take this class and it was well worth the Journey. I will be looking forward to come back again for other classes:)
HIGHLY recommend Arthur and his class. Very nice demeanor and very breaks down the info so that's digestible. Def glad i took the course.
Yelp 6/28/16 Ryan
Hi Arthur,

I want to let you know that I enjoyed the class and to express my appreciation and thanks for sharing your expertise with me. You have a knack for presenting the information in an understandable way. I definitely came away knowing more repair and maintenance procedures than I knew going in. Hopefully I'll be able to use that information soon in a bike shop here in Thousand Oaks.


Best regards,
Marc
70 Hour Class
"Arthur was a wonderful teacher. Very knowledgable of all aspects of his trade. He is very hands on and extremely patient. Overall a great learning experience." FreshBooks
4 Hour Beginner Class
Faith Anderson said: (via FreshBooks)
"Arthur gave Bradley total guidance, direction in all aspects of working on his bike and what he needed to know, as well as showing the correct tools to use. Explanation of how and why parts went together in a certain way and much patience allowing Brad to do the work. Brad was very happy with what he learned in the class and told me he wants to recommend the class to his friends. EXCELLENT TEACHING!!! I am a very pleased grandmother, money very well spent!"
Yelp Sean H. 7/4/15
Pro Bike Build Class
Arthur at Bike Teacher has created one of the best bicycle maintenance and build shops. He is very patient and takes the time to show you how it's done while giving you the confidence to do it on your own.

I signed up for Bike Teacher's pro build course and had the awesome opportunity to build-up my new bike from start to finish. Arthur was there to guide me along the way, give great tips and provide the right tools to do the build properly.

I highly recommend Arthur for both small and large jobs. His shop is comfortable, well organized and an overall great place to learn.
Special Projects, buttoning up a bike build only.
Arthur is an expert at bike repair and maintenance. He is also patient, enthusiastic and a great teacher! My son built his first bike and Arthur worked with him on the headset, which my son was stuck on. Arthur explained a lot and let my son do most of the work. We will be back for Arthur's classes!
Serena, Los Altos Ca. 1/2015
70 Hour Class
I had a super experience in the 70 hour course. I wanted a hands-on, experience-driven approach and that's exactly what I got. I found Arthur to be a good communicator, very patient, and just a good guy! At the end of the course, he threw both of my bikes way out of tune, handed them over and said "fix 'em". That took a while, and I needed some guidance here and there, but I left knowing I had really learned something.
John San Jose Ca. 12/2014
12 Hour Advanced Class
Arthur is an awesome teacher who is patient and glad to share his wealth of bike knowledge with his students. I took the 12hr course and learned everything I need to know about maintaining and upgrading my road bikes.

After working with Arthur for 12 hours I feel confident to tackle just about any bike related issue, and not worry about breaking something or not know how to put something back together. All learning in class was hands on with your own bike or parts he had in the shop.

Class was worth every penny in my opinion.
Justin, Fremont Ca. 8/2014
I took a wheel truing class a few months back. It was a great class and I learned a lot in a short period. I recently needed my bike tuned and remembered how much I enjoyed his class and skilled he is so I decided to drop the bike by. The service was quick and very affordable. Highly recommended.
Robert, Danville Ca. 4/2014